Corporate integrated management system of JSC Avgust meeting the requirements of international standards ISO 9001, ISO 14001, OHSAS 18001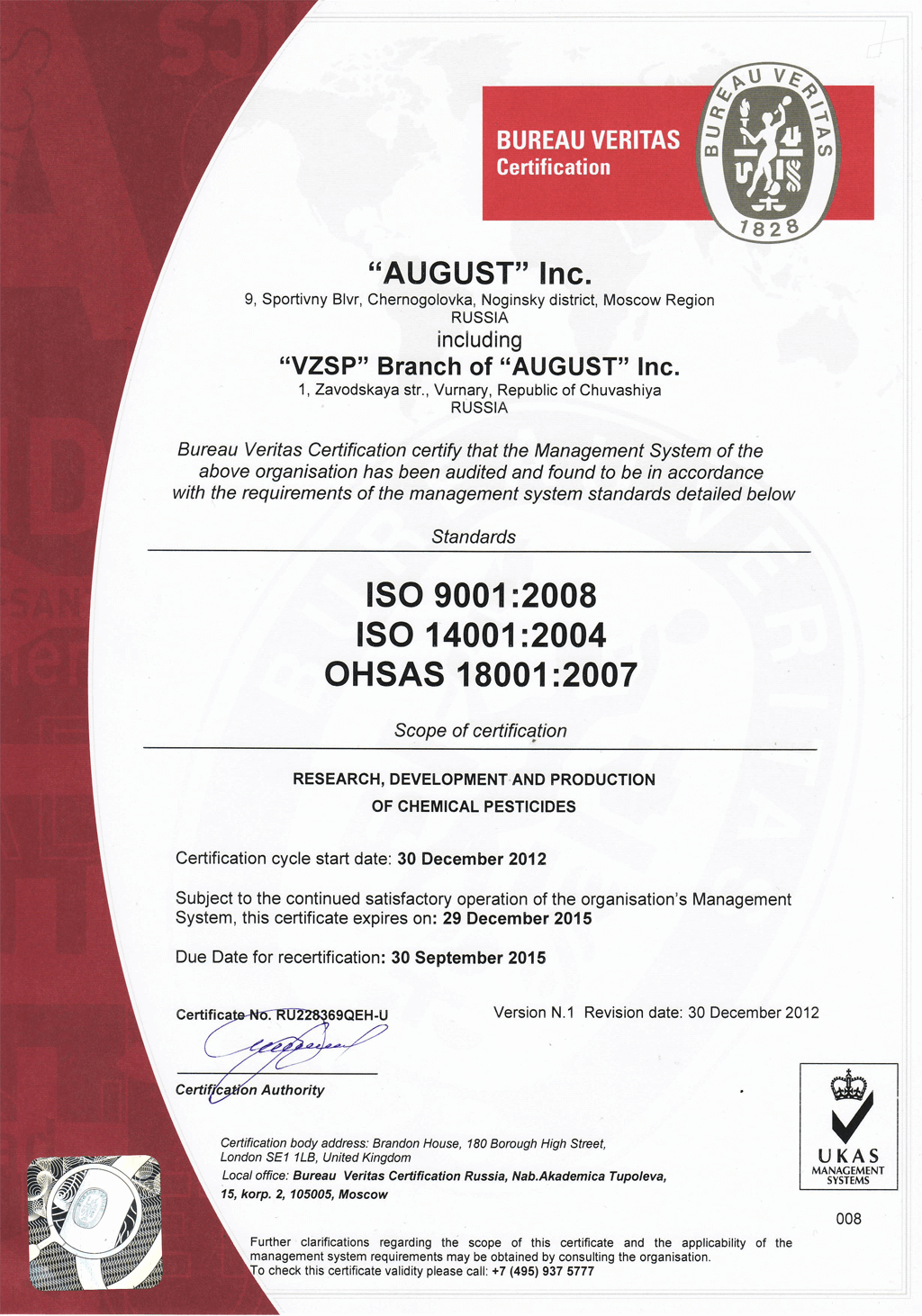 In 2006, JSC Avgust decided to introduce a quality management system (QMS) meeting the requirements of the international standard ISO 9001:2000.
The chosen field of certification was the main area of activity of Avgust – research, development and production of chemical substances for crop protection. They brought into the system the management company in Moscow and the main production facility – a JSC Avgust subsidiary, the «Vurnarsky Blended Preparations Factory» in the settlement of Vurnary, Chuvash Republic.
Quality Management presupposes the constant improvement of company activities and raising the satisfaction level of customers. Following these principles imposes heavy obligations on the company. Maintaining and developing the system of Quality Management requires constant work on improving the management system, renewal of the production and technology base, getting feedback from customers and other company partners and taking their wishes into account. It is an essential requirement of the standard that staff be drawn into the process of improving the management system, including arranging internal audits.
The matchup of the QMS developed by JSC Avgust with the requirements of the standard was confirmed in April 2007 by the authorized international certification body – Bureau Veritas Certification.
The next logical step was to adopt a management system in the area of ecology, protection of labor and safety techniques in accordance with the standards ISO 14001 and OHSAS 18001.
One important stage in the preparation for certification under ISO 14001:2004 was to create registers of «ecological aspects», or elements of activity, production or services of the organization which could have an impact on the environment.
The basic actions to implement the management system for on the job safety and protection of labor included identification of dangers and evaluation of risks, on the basis of which we developed registers of dangers and risks, and also defined the essential risks and took measures for their avoidance.
Since the beginning of 2008, JSC Avgust has had in operation a corporate integrated management system meeting the international standards ISO 9001, ISO 14001 and OHSAS 18001, as well as the requirements set by the company itself in its Policies in the field of quality, ecology, on the job safety and health.
In the estimation of the All-Russian Organization of Quality, only several private Russian companies have established such a high standard for themselves in the field of production management.